Mali's Festival in the Desert and Festival on the Niger (river) took place in January and February this year. Later this week, the Malian Taekwondo team will compete in the summer Olympics in London. Tuareg, Sonrai, Peul and Bambara people in the north of Mali continue to try to live normal lives in spite of the occupation of fractious forces. Bambara, Sonrai, Peul, Tuareg and other peoples in the south of Mali are also living their daily lives – though in relative safety, working together and apart, as in any nation with many nationalities and ethnicities. But the strain on the resources of a country both landlocked and in turmoil means that families are facing diminished incomes, hunger, illness and uncertainty in the short and long-term.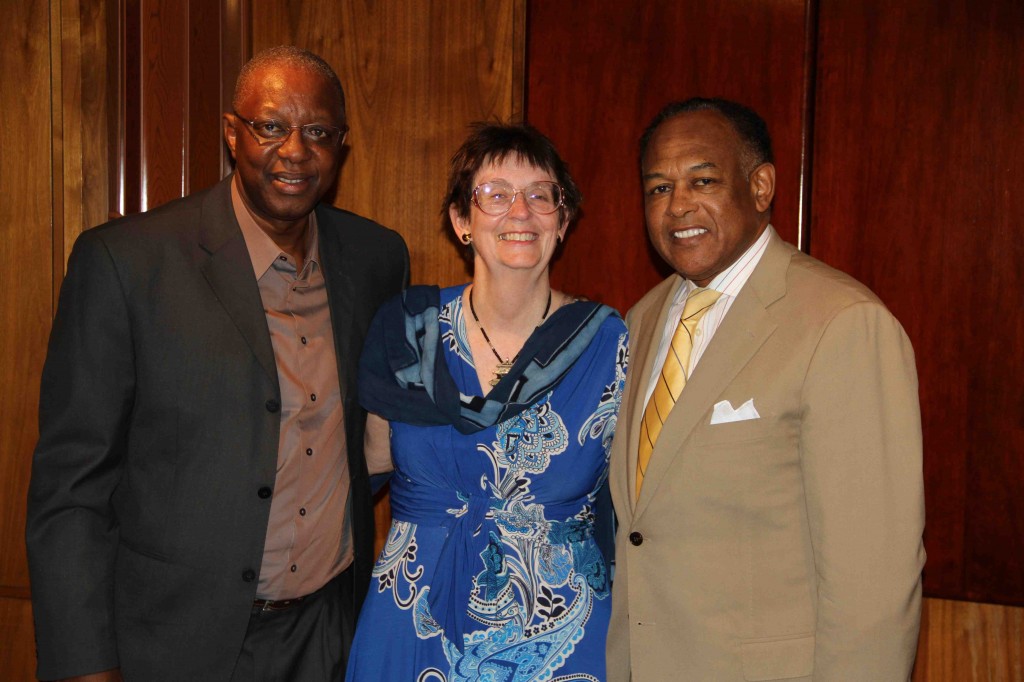 6 days into a hectic 7-day agenda, Mayor Ousmane K. Simaga of Segou and Mayor Dwight C. Jones of Richmond, met to discuss the crisis in northern Mali and its impact on southern Malian cities like Segou, especially in terms of displaced persons. In spite of being a gold-, mineral-, and likely oil-rich country, Mali is the 25th poorest nation in the world with an average life expectancy of 57 years. Segou, a city of 135,000, has seen at least 7,238 people arrive over the last few months and yet has received very little aid (beyond milk, sugar and rice) from a central government in chaos, while facing the abrupt elimination of NGO programs and the destruction of its tourism economy.
Mayor Simaga has visited both of Segou's sister cities (Angouleme FRANCE and Richmond) this summer to explain the complex origins and dynamics of the current crisis in Mali that involves both a rebellion in its northern territories and a military coup d'etat in its capital city. The acting Prime Minister of Mali's transitional government, Cheick Modibo Diarra, will be in New York next week for the opening of the United Nations General Assembly to plead the case for UN financial support of ECOWAS (Economic Coalition of West African States) as they determine how to intervene – with negotiations or militarily (an option not desired).
Mayor Simaga's agenda has included meetings with Michael Rao, president of Virginia Commonwealth University (VCU), James Coleman, dean of VCU's World Studies department, and Uliana Gabara, dean of University of Richmond's International Studies program. Simaga was hosted by Dr. Shawn Utsey, chair of the department of Africana Studies at VCU, and translation for his meetings was provided by vice president of the Richmond Sister City Commission and professor of French and World Studies at VCU, Dr. Patricia Cummins, pictured below. Receptions were held at the private home of art dealer Ginger Levit and at the Virginia Red Cross with its executive director Reginald Gordon and members of the nonprofit African Community Network, including its president, Jean Bosco Mfogham. The mayor's program coordination and additional translation services were provided by Virginia Friends of Mali.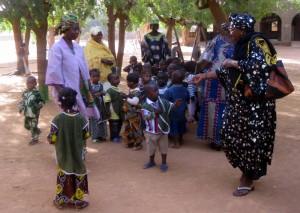 Interviewed by the local daily paper, Mayor Simaga said he was reaching out to Segou's sister cities for financial assistance to help meet the needs of the children, women and men arriving everyday from the north – food, medical treatment and to get the children into school as quickly as possible so they don't fall behind their peers.  Funds to immediately provide this support is key, but the second ask was to help raise $24,000 for Project CURE to load a shipping container with $450,000 in medical equipment and supplies for their community health clinics and central hospital.  Both are urgent and low-cost investments in highly impactful solutions to infrastructure challenges faced by our sister city.
Another major ongoing problem for Segou is lack of equipment for handling trash and waste management. To follow-up on discussions begun last fall, Simaga visited Eubank Trucks in south Richmond to see refurbished trucks and parts that could be purchased and transported. Just before leaving for Washington DC, Mayor Simaga indicated he was happy with the meetings he was able to have and that in spite of the depth of the crisis, and with with help of good friends, he was confident that Mali would see itself through to more stable and peaceful times.
VFOM's focus will be on humanitarian needs and strengthening our relationships with the people of Segou at many layers of society – municipal, civil, cultural, NGO and individuals – all of whom are working to find a Mali-based solution to their current troubles, and mechanisms for addressing conditions that will lead to a stable and productive Mali for all its many peoples, north and south. If you would like to help, and every little bit does help, please click the DONATE button above and send your tax-deductible contribution to Segou via PayPal and the Virginia Friends of Mali, a 501(c)(3) nonprofit organization. By mail please send your check (payable to Virginia Friends of Mali or VFOM) to Virginia Friends of Mali, Post Office Box 4363, Richmond, Virginia 23220 USA.